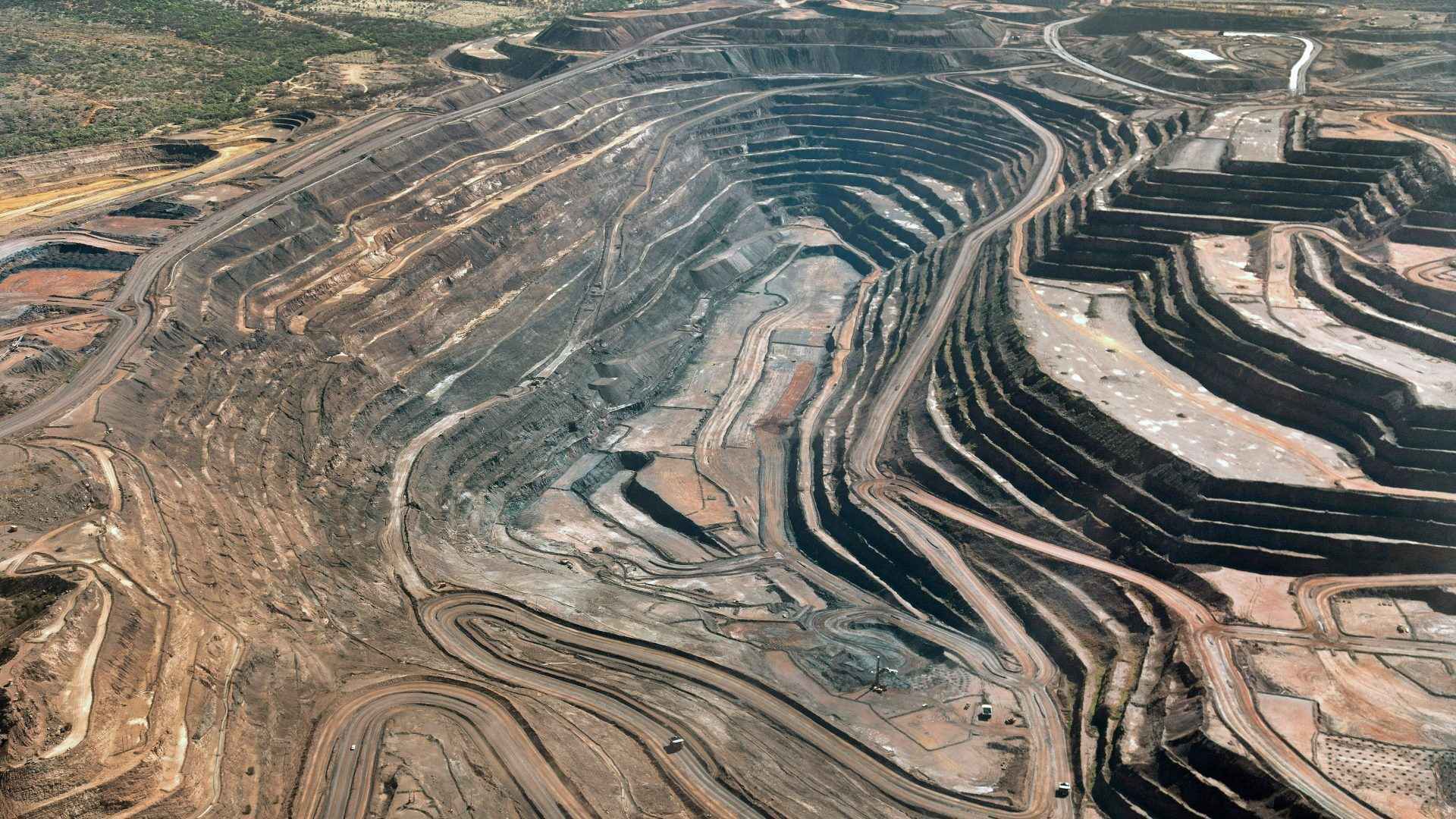 BHP's Mount Whaleback mine in the ore-rich Pilbara region of northwest Australia. Pilbara is only one facet of the company's declared strategy to become a "fully integrated, highly automated" mining company by 2025.
PERTH/SINGAPORE — As a lightning storm descends on BHP's sprawling iron ore mines in northwest Australia's desert, some 50 huge trucks and 20 drills churn along undeterred.
They all are autonomous, and largely controlled by workers in a high-rise building over 1,000 km away. It is the nerve center for massive amounts of data streaming between Perth and the ore-rich Pilbara region, as well as other control centers as far afield as India and Chile.
The futuristic mine is evidence that one of the world's oldest industries is finally moving into the digital age. Normally focused on the business of carving out millions of tons of ore that quite literally form the building blocks of global growth, large resources companies like BHP, the world's biggest miner by market capitalization, have only recently recognized the potential of the industrial internet to drive productivity and efficiency.
At BHP's Jimblebar mine, haulage costs have shrunk by 20% since equipment was fully automated in 2018, the company says. But Pilbara is only one facet of BHP's declared strategy to become a "fully integrated, highly automated" mining company by 2025.
The goal was set in some urgency three years ago, when BHP was deep in a slump brought on by weakness in the global commodities market.
Technology, BHP management decided, would help it face future uncertainties, including the impact of a slowdown in the economy of its biggest customer, China; competition from increasingly productive rivals; and the age-old risks of operating in extreme environments.
Melbourne-based BHP came late to that conclusion. Its unofficial mantra has been "first to be second," reflecting the fact that its chief rival, Rio Tinto, is already a full decade into its "mine of the future" program. But management believes the mantra will soon have to change.
"It's taken time and investment to catch up, and now we want to sprint ahead," Diane Jurgens, BHP's chief technology officer, told the Nikkei Asian Review in an interview in Singapore.
BHP has increased its technology spend by fivefold over the last five years, say analysts, though the company has not disclosed the investment or cost savings it expects to make by the time it reaches its 2025 goal. But a recent report by consultancy EY and the Minerals Council, an industry lobby group, estimates that the industry as a whole could improve productivity by up to 23% with a layout of roughly $35 billion in new technologies. Rio Tinto, which has roughly similar annual revenues to BHP, has disclosed investment plans of $2.6 billion for one digitalized mine alone.
BHP's commitment to a digital future came as the group faced some of its biggest challenges. Not only were commodity prices plunging, but the company was hit by tragedy in 2015 when a dam broke in Brazil, killing 19 people and triggering billions of dollars in lawsuits, some of which are still underway. In fiscal 2016, BHP recorded its worst-ever annual loss of $6.38 billion. Since then it has been through two more painful years, shedding thousands of employees and bringing assets divested to around $18 billion in an attempt to recover.
In 2017, BHP earned a profit of $5.9 billion, a turnaround validated by credit rating upgrades from S&P and Moody's. But progress remains uneven. Its most recent earnings for fiscal 2018 just undershot analyst expectations, with profits of $8.9 billion missing forecasts by 3%. Earnings were hit by a $2.8 billion write-down as it divested a controversial shale energy business under intense pressure from activist investors Elliott Associates.
The company's Australian iron ore operations — connected by over 1,000 km of infrastructure spanning the desert — are still money-spinners, however, and a model for what might be possible with digitization of this traditional industry.
At BHP's Integrated Remote Operations Centre in Perth, banks of monitors flicker with real-time video and tracking data from the far-off autonomous equipment, signposted with the Pilbara mines they are linked to: Mount Whaleback, Jimblebar, Eastern Ridge.
A new breed of miners — dressed in polo shirts and chinos rather than grimy overalls — remotely control the infrastructure, processing data generated by thousands of sensors attached to equipment used there. This is the company's first step into the manufacturing ideal of Industry 4.0 — where the workers, equipment, operations centers and even customers can all be seamlessly connected via the internet to drive assembly line-levels of efficiency.
BHP has been working to close the technology gap with Rio since opening the center in 2013. But the pace has picked up since 2016. Half its automated trucks were only converted in the past year, around the same period it also added over a thousand employees to its permanent global technology team. Next, it aims to pull ahead of Rio, if it is successful in scaling up automation across different operations.
Its adoption of digital technology is about more than just gaining an advantage; it is about survival.
BHP has ballooned and shrunk with commodity cycles since its origins as a tin miner in Indonesia in the 19th century. It expanded as a chief supplier of iron ore to a rapidly industrializing Japan in the 1960s, and entered the ranks of the world's biggest miners after its blockbuster merger with Anglo-American miner Billiton in 2001 — a defining deal that was largely undone in a spinoff and restructuring in 2015.
But over the years BHP came to rely heavily on China, where seemingly boundless growth fed sales and profits. When growth began to slow in 2014, torpedoing prices for raw materials, BHP began to feel the pain.
The severity of the slump "really caught the mining industry by surprise," said Glyn Lawcock, senior commodities analyst at UBS. "They didn't see it coming … and they couldn't see a way out of it for a while."
The pain of the latest slump finally drove home the need to "look inwards … and insulate their business," said Lawcock. For BHP and other miners, that meant investment in technology.
In 2015, BHP Chief Executive Andrew Mackenzie persuaded Jurgens to head his technology division, ending her 10-year tenure in China at General Motors' joint venture Shanghai OnStar Telematics. As stimulus from Chinese authorities pushed up demand and, in turn, commodities prices in 2016 and 2017, BHP was able to increase capital expenditure for its technology drive.
There are early signs of payback. The company's autonomous drills are 10% to 20% more productive to run than human-operated drills, but they can also do double duty. Intelligent sensors attached to drill-bits can reduce mine mapping from months to "a matter of weeks," Jurgens said, a move that allows the company to locate the highest-quality areas fast. In one emerging technology used by BHP, drills that deposit explosives to crack rock now send sensors through the blast, detecting ore location as they travel through, with the data analyzed real-time by artificially intelligent software.
BHP's automation push comes as the price of sensors is tumbling and 4G vendors like Nokia and Ericsson are moving from crowded consumer telecommunications into the industrial space. Far from any internet infrastructure in the desert — a situation staff jokingly call "BYO Wi-Fi," for "bring your own Wi-Fi" — BHP is building what it says is the largest private LTE network by area in existence in order to enable full automation.
Not all of BHP's digital ventures have been successful, however. Sources say a $55 million blockchain experiment, begun by BHP in 2016 to track its supply chain using Ethereum, a cryptocurrency, was abandoned when it became apparent it would not deliver benefits. Moreover, some analysts suggest that BHP may struggle to replicate Rio's success in digitization.
"For Rio, it's already etched in their reputation," said Sabrin Chowdhury, commodities analyst at Fitch Analytics. BHP's operations are more spread out geographically, making it harder to fully incorporate technology, she noted.
Yet smaller Pilbara miners are also moving toward automation. They cite 15% to 30% gains in productivity, and production costs have been cut in half from a decade ago.
Miners have seen "the most astonishing cost gains" from digital adoption, said Tim Biggs, partner in metals and mining at Deloitte UK. With the technology spread across large-scale operations, "they can be making up to 300% margin, depending on the prevailing ore price," he said. "[It] enables them for two things: efficiency and sustainable cost-cutting."
Now, the tech race is already moving on: from automation to grappling with intellectual property that can differentiate players.
"It used to be that our assets, which are still the most valuable part of our business, was where we focused," Jurgens said. "Now we know the value we're creating with some of our technology is something we also need to protect."
For example, at the world's largest copper mine, Escondida in Chile, BHP has developed a way of identifying precisely where to extract lucrative copper from its deposits. The structure of the ore is 99% waste and 1% copper content. "How you understand where the copper is — that's a huge competitive advantage," Jurgens said. "We'll definitely be keeping our science of [that] private."
Most of BHP's data analysis is done in-house and many of its tech workers have been retrained from inside the company. But critics question whether new inefficiencies will be created by the storage of vast amounts of data that miners are ill-equipped to use. At the moment, analysts estimate that miners use only about 1% of the data they collect.
"It's hard to ever throw away data now," Jurgens admitted. "For a lot of cases we're just keeping it long-term, because we find as we get smarter and smarter about analysis, that historic data becomes even more valuable."
Following its restructuring, BHP already looks different. In 2025, the same year the company aims to deliver its digital strategy, its global workforce should also be split evenly between men and women. The goals are linked: some of BHP's technology-related teams are more than 50% female.
Despite uncertainties, many analysts think that BHP's strategic shift should eventually pay off. Pushing ahead in technology in the industry "has to be a necessity, to some degree," said Lawcock of UBS. "The prize is big at the end of the day," he said. "But it's not without risk."